活動 Events

1. 哥倫布騎士會主辦的停車場賣物會總收入為 $1,058.70. 其中 $500.00 撥出支助今年參予逾越知音福傳之旅的三位青年. 另外 $529.35 則支持青年組的活動. 多謝騎士會熱心支持堂區的青年.
Total proceeds from Yard Sale organized by the Knights of Columbus was $1,058.70, of which $500.00 will be donated in support of the three youth participants of FOJP, while $529.35 will be given in support of youth activities. Thanks to the Knights for their support for our youth.

2. 週年旅行同樂日定於7月15日(星期六)上午九時半至下午三時在 Long Island Locks 舉行. 詳情請參閱六月份堂區通訊 .
The Annual Picnic is scheduled on July 15 (Saturday) from 9:30 a.m. to 3:00 p.m. at Long Island Locks. For details, please refer to the June Bulletin.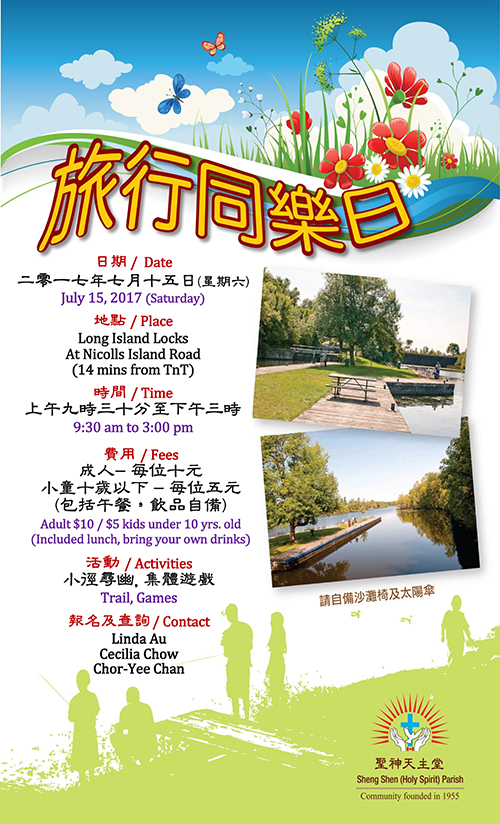 3. 由於池神父與趙縣教區秘書長靳神父需要提前回國, 歡送會現改期八月二日(星期三) 在揚子江酒家舉行. 餐券每位$40. 額滿即截止報名. 如欲參予, 請與李莉, Richard Chan, 謝夢儀或 Rosa AuYeung 報名. 繳費後才確定席位.
The Farewell Dinner for Fr. Chi and Fr. Jin has been re-scheduled to August 2 (Saturday) at Yangtze Restaurant. Dinner tickets are $40 per person. To purchase tickets, please contact Lily Li, Richard Chan, Julianna Tse or Rosa AuYeung.