活動 Events

最新消息 Latest News

1.今日感恩祭將有第二次奉獻, 為支持加拿大教堂的需要.
There will be a second donation during today's Mass in support of the Needs of the Canadian Church.

2. 今日感恩祭後, 將有 Holy Land Christians 售賣聖地聖物. 請教友購買支助此機構.
There will be holy objects on sale by the Holy Land Christians after Mass today. Parishioners are welcome to buy objects and support this organization.

3. Cecilia & Gary Chow 的兒子 Derek Chow 與 Lyndsay Grisold 定於九月三十日 (星期六 )下午二時在本教堂舉行婚禮. 歡迎教友參予慶典.
The wedding ceremony of Lyndsay Grisold & Derek Chow, son of Cecilia & Gary Chow, is scheduled on September 30 (Saturday) at 2 p.m. at our church.
Parishioners are welcome to attend the ceremony.

4. 堂區為促進虔誠向聖母恭敬祈禱的活動, 今年十月玫瑰月開始, 每星期六下午一時三十分在地庫 H101室與教友聚集一起誦念玫瑰經. 堂區現已邀請MIC的蔡修女在十月七日首星期六帶領我們以新的形式誦念玫瑰經.
To promote devotional praying to our Mother Mary, we will start to say the rosary together every Saturday in October, the month of the rosary, at 1:30 p.m. in Room H101.
We have invited the MIC's Sister Celia Chua to lead us in saying the rosary in a new format on October 7, the first Saturday of October.

5. 堂區定於十月一日主日感恩祭後舉行 potluck 午餐慶祝中秋節. 請教友携帶食品參予.
There will be a potluck lunch to celebrate the Mid-Autumn Festival on October 1 after our Sunday Mass. Parishioners, please bring along your favourite food to share.

6. 團體成立六十二週年慶典晚宴暨卡拉O.K.之夜定於十月十四日 (星期六) 晚上六時三十分在堂區禮堂舉行. 現開始接受訂購餐券, 每位$30. 同時接受贊助歌唱. 詳情請參閱海報或九月份堂區通訊. 報名截止日期為十月一日.
Our Community's 62nd Anniversary Celebration Dinner & Karaoke Night is scheduled on October 14 (Saturday) , and is to be held in our hall at 6:30 p.m. Dinner tickets are $30 per person. We are accepting the purchase of tickets and sponsorship for singing. For details, please refer to the poster on the Notice Board or in the September Bulletin. The deadline for booking is October 1.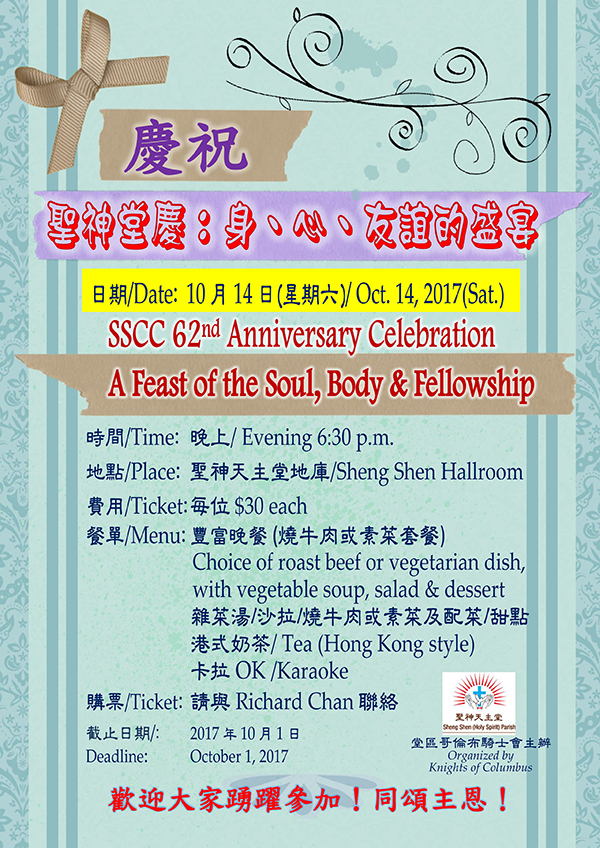 7. 2018 堂區月曆現已出版並開始出售, 每本售價 $3.
2018 Parish Calendar may now be purchased for $3 per copy.